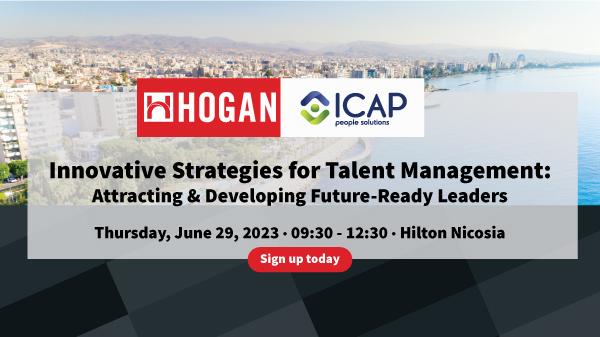 Innovative Strategies for Talent Management: Attracting and Developing Future-Ready Leaders
Organizations worldwide are struggling to prepare for the future. A mere 11% of companies have a strong succession plan for their leadership. Are your leaders future-ready?
ICAP People Solutions and Hogan Assessments, an international leader in personality assessments, invite you to an exclusive HR networking brunch to discuss innovative talent strategies and learn how psychometrics can support the attraction, selection, and development of leaders.
With interactive discussions about pressing issues, access to the latest leadership insights, and networking opportunities, you'll be prepared to elevate your talent management practices.
Event Agenda
Welcome and introduction – Serafeim Karaiskos, ICAP director of executive search, Greece and Cyprus, and Eleni Demosthenous, Hogan reseller, Cyprus
Challenges and next practices in attracting and retaining talent – Christiana Kyriacou, ICAP head of executive search, Cyprus, and Maria Petrides, ICAP senior manager of executive search, Cyprus
How personality insights can drive your talent strategy by enhancing leadership performance and development – Maya Krzyzanowska, Hogan Assessments senior consultant
Leadership and team development success stories using Hogan tools – Galini Iliopoulou, ICAP senior manager of human capital consulting, and Kostas Zoulias, ICAP director of human capital consulting
Join us at the Hilton Nicosia in Cyprus from 9:30 to 12:30 on June 29 to ensure your leaders are ready for the future. Register today!